So hello. I got a bit busy and lost my stride but then I thought I'd pick it up again anyway. Hi, how are you? It's getting a bit weird out there. Or weirder.

THE DREAMS OF ANIMALS
Good Grief Studio
Tom O'Hern might be one of the most recognisable artists in Hobart right now. He has a very distinctive style, built up over years, which is, these days at least, fairly simple and clean, if not simplistic. A glance through his back catalogue of works – and there's a quite a bit there – reveals he has gone through some stylistic changes over the years; what's interesting about it is that it's gotten less complex over time, whilst becoming more distinct. It's as if he relaxed into doing something he enjoyed more, and that sensation come through in the work – it looks effortless (it probably isn't but it looks like that).

This is interesting, because O'Hern has now arrived at a weird cross roads in his work. He's quite capable of drawing up a storm, making wry observations about life and humanity, sharing his palpable joy at drawing and his fascination with the grotesque wonders of life, and drawing cool monsters and jovial animated skeletons. He can do that. We all know he can, and his material is enjoyable enough, and always will be.

However.

O'Hern recently exhibited a collaboration with M Conboy, who he's a parent of. This video work had all that distinctive O'Hern style, but it also had an edge of bedlam (doubtless provided by Conboy) that I found incredibly refreshing, as well as a whole lot of colour, which O'Hern doesn't often utilise. It also had sound, and I really have to underline how much I loved the soundtrack. I've not thought of O'Hern as a music maker before, but this arrived well formed and had the same kind of trademark playful hilarity you might find in his drawings. The video is totally great, and more importantly, it does not feel like a weird sidebar we won't see more of.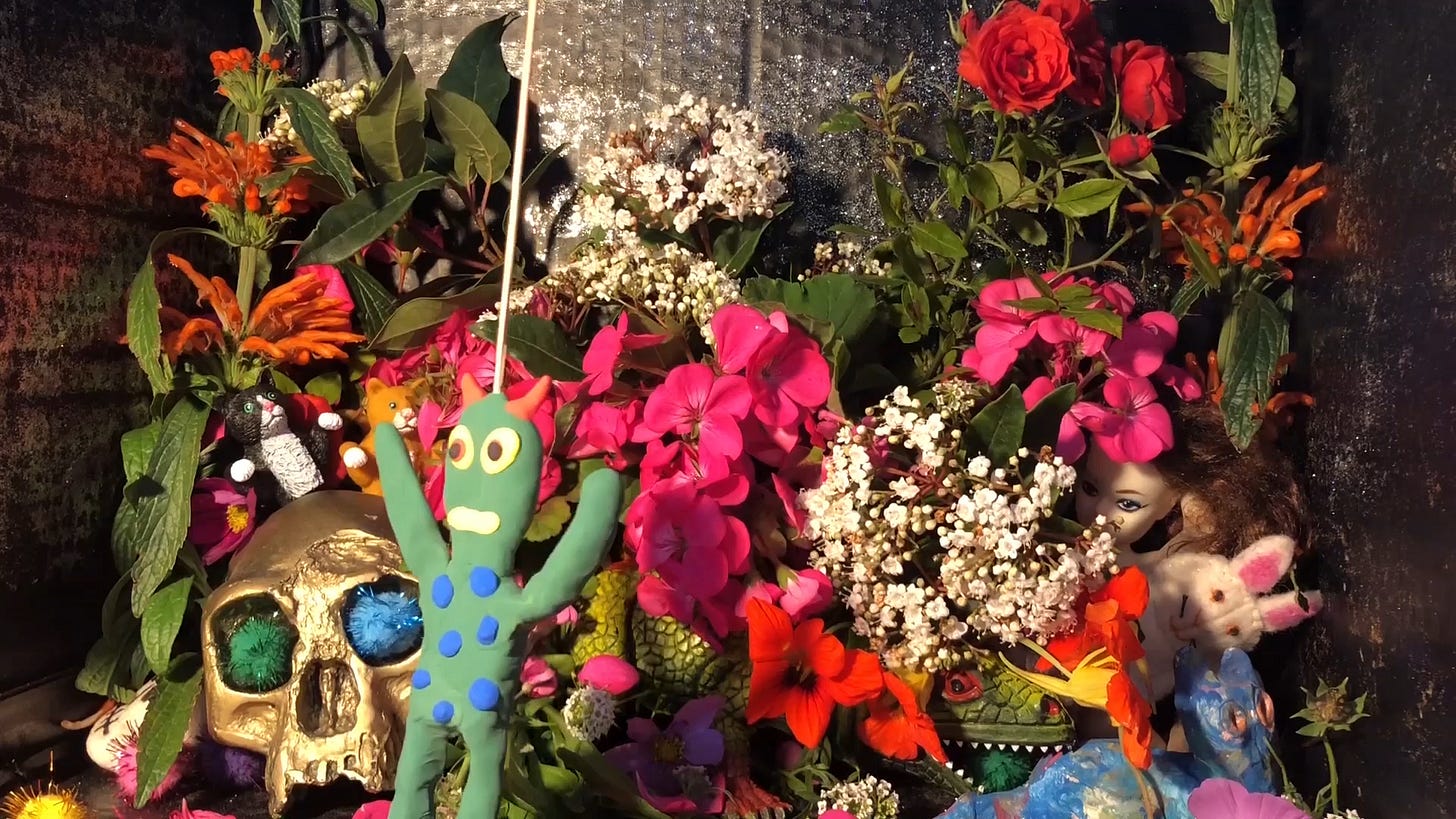 O'Hern has produced animation before (not that this is animation as such, it's more puppetry), and is clearly interested in moving images. I'm not suggesting a career shift here – I can't tell any artists what they should do. But this work from O'Hern thrilled and charmed me, because it was funny and surreal. It has a sense of play and exploration that is entirely rooted in O'Hern's prior work, which I really enjoy, but can't quite recall being so surprised by for a while now. By delving into play and collaboration, and to some extent surrendering to it, O'Hern has found an expanded direction that offers something other than commentary on the foibles and failings of humanity. Instead, an imagined world, possibly one without humans is presented – and it's mad and weird and beautiful.

AMPLIFY 2020
I'm a bandcamp believer. One big reason for my enthusiasm around this music platform/social media hybrid is that it seems like a really good way for rather obscure artists to get a bit of coin - the platform takes a percentage, but the artist is left with a decent chunk. I've seen more obscure artists like New Zealand national treasure Alastair Galbraith claim that bandcamp has advanced the most actual income of any source of his career. In addition to this, over the whole lockdown/isolation period there have been 'Bandcamp Fridays' - where the platform waived their fee so the artists could get 100%, which I thought was pretty cool. A number of musos in term used this day to raise funds for causes they were invested in.

Bandcamp itself has been a hive of activity during COVID-19, and it's impossible to keep up with the tsunami of digital music. One beacon has emerged though - at least for me - Amplify 2020. This is a direct and continuing 'online festival' of sound art, and it features music and sounds from everywhere. There's a blog which goes into greater detail, which gives links for lossless sound files, and a paypal where you can directly throw the musicians some cash should you feel so inclined.
At this point there are some 170 releases available, all free to check out and pay what you want, and the quality is superlative. Bill Nace, best known for his Body/Head duo with Kim Gordon, is here, alongside Australian sound painter Matthew Revert - but really you could dig into this for days and not get to the bottom of it all. I found this work from Delphine Dora to be a gorgeous haunted water evocation, but really there's a ton of stuff here.
I could pick favourites for some time - but I've not listened to all of it. What I can say is that if you want to test the temperature of experimental sound and composition globally, right now, this is a damn good place to dig in.
HOUSEKEEPING AND THINGS.

You know that Kenneth Anger bloke? A gay satanist film maker who was pivotal in inventing experimental cinema? He's still out there, and he's still making films. His more recent work is far harder to see than his older stuff, which is a little word, but he became more political than he'd ever been. Here is Don't Smoke That Cigarette, an Anger work from 2000 (so not that recent), that I've never seen. It's a collage of adds for tobacco and it's quite fabulous, so give it a look before it vanishes again - because if there's one thing we should know by now, the internet is not forever. The film does get confronting when footage of people with nicotine related illnesses appears, so be warned, but it is well worth seeing.

I've found myself incredibly engaged with this series of interviews conducted and compiled by the wonderful Jay Babcock, who once edited the amazing Arthur Magazine, and is still a believer in the potential and hope of counterculture. These interviews with people involved with Hippy Anarchists, The Diggers, have given me a very different picture of the counter-culture of the sixties - people involved in this movement were talking about such things as a Universal Basic Income. There's a lot of great history here that shouldn't get lost, and Jay is doing a great job presenting some primary sources.
And I usually link to a tip jar for myself here(hey, I'm struggling arts writer), but this time around might I suggest a donation to Sisters Inside. This organisations works with and supports women and girls who are in prison, or who have been incarcerated. Have a look at their values and consider making a donation.

Over and out. Stay safe out there. It's getting weird.